Savor the Flavors..........
Pumpkin Fudge
By Debbie Reynolds
Ingredients:

1 cup chopped walnuts, divided
1 1/2 cups granulated sugar
1 1/2 cups packed light brown sugar
3/4 cup (1 1/2 sticks) unsalted butter, cut into small pieces
2/3 cup evaporated milk
2/3 cup pureed pumpkin
1 teaspoon ground cinnamon
1/2 teaspoon ground ginger
1/4 teaspoon nutmeg
1/8 teaspoon cloves
1/8 teaspoon allspice
2 cups white chocolate chips
1 jar (7 oz.) marshmallow crème
1 1/2 teaspoons vanilla extract
Directions:

Preheat oven to 350 degrees F. Spread the nuts onto a baking sheet
and place in preheated oven 5-7 minutes until fragrant. Shake the
baking sheet halfway through baking so the nuts will toast evenly.
Remove nuts from oven and set aside to cool completely.
Line a 13 x 9-inch baking pan with foil letting the foil extend up the
two short sides of the pan and overhang slightly on both ends.
In a heavy saucepan, combine sugar, brown sugar, evaporated milk,
pumpkin, butter and spice. Bring to a full rolling boil over medium heat,
stirring constantly. Boil, stirring constantly, for 10 to 12 minutes or until
candy thermometer reaches 234° to 240º F (soft-ball stage).
Quickly stir in white chocolate chips, marshmallow crème,
3/4 cup walnuts and vanilla extract. Stir vigorously for 1 minute or until
morsels are melted. Immediately pour into prepared pan and top with
remaining 1/4 cup walnuts. Let stand on wire rack for 2 hours or until
completely cooled. Refrigerate tightly covered. To cut, lift from pan;
remove foil. Cut into 1-inch pieces.
Baked Pumpkin Soup

A fun and delicious soup for fall.

INGREDIENTS:
1 medium pumpkin
4 cups chicken broth
1/4 cup maple syrup
1 tablespoon butter
1/2 teaspoon cinnamon
1/2 teaspoon nutmeg
1/2 teaspoon salt

1. Preheat oven to 350 degress. Slice the pumpkin in half and scoop out the seeds. Place the halves cut-sides down on a buttered cookie sheet and bake for 1 hour.

2. Scoop out the pumpkin flesh and pass it through a sieve. In aheavy saucepan, combine the pumpkin with the remaining ingredients. Cook over low heat, stirring occasionally, until warm.
---
Rhubarb Cake

1 Yellow or White Box Cake mix

(or your favorite scratch cake)

1 1/2 Cup Sugar

3 Cup Rhubarb Chopped

1 Cup Whipping Cream

1 Pkg of Strawberry Jello

Cool Whip

Mix 3 cups Rhubarb with sugar and set aside.

Follow the directions for Box cake.

Pour Cake mix into greased 13X9 baking dish.

To the Rhubarb and sugar mixture add in Jello and

Cream.

Mix well.

Spoon over cake mix (do not mix in)

Bake at 350 for one hour.

Whipped cream.

Shaker Cold Rhubarb Tea

By Charlie Burke

For approximately two quarts:

8 cups rhubarb, cut into 1 inch pieces

8 cups water

Juice and grated rind of one orange or lemon (avoid the white pith under the rind)

3/4 cup sugar

I pint fresh strawberries, mashed (optional)

Simmer rhubarb on the water until tender (20 – 25 minutes)

Strain, pressing on rhubarb with a spatula to extract all the juice.

Stir in the lemon or orange juice and rind; mix in optional strawberries

Add sugar, stirring until dissolved

Cool and serve over ice.

Chai-Spiced Hot Cocoa
Ingredients

White or Light Chocolate Hot Cocoa
1 chai spiced tea bag
Fresh Whipped Cream
Ground cinnamon, optional

Preparation

1. Place Hot Cocoa in Cup . Add tea bag. Let stand 1 to 2 minutes, based on desired strength of chai spice. Remove tea bag and discard.

2. Top with a fresh whipped cream . Sprinkle with cinnamon, if desired.

Cranberry Cake


makes 1 9x13 or 1 10" springform cake
3 eggs
2 cups sugar
3/4 cup unsalted butter, slightly softened and cut into chunks
1 teaspoon vanilla
1 tablespoon kirsch (optional)
1 teaspoon of salt
2 tablespoons of milk
2 cups flour
2 1/2 cups cranberries (1 bag)


1. Preheat oven to 350°F. Lightly grease a 9x13 pan or a 10" springform pan.

2. Beat eggs and sugar together for 5-7 minutes; the eggs will increase in volume quite a bit, streaming into ribbons when you lift the beaters. They will also turn pale yellow.

3. Add butter and extracts and beat for 2 minutes. Add the milk and salt and mix for another 30 seconds.

4. Stir in flour and fold in cranberries. Pour into greased pan.

5. Bake 45-50 minutes for a 9x13, or a little over an hour for the springform. You may need to tent the cake with foil in the last 15 minutes or so to keep the top from browning. Cool completely on a wire rack before serving.

Linzer Cookies

Recipe

1cup (110 grams) toasted and ground hazelnuts or (pecanscan also be used)

2 cups (280 grams) all purpose flour

1/2 teaspoon cinnamon

1/4 teaspoon salt

1 cup (227 grams) (2 sticks) unsalted butter, room temperature

2/3 cup (135 grams) granulated white sugar, divided

1 teaspoon pure vanilla extract

2 large egg yolks

Zest of 1 lemon

Confectioners' (Icing or Powdered) Sugar for dusting

1/2 cup seedless Raspberry or Black Currant Preserves or Jam (can use other flavored preserves or jam)

Note: Lemon Zest is the yellow outer rind of the lemon that contains the fruit's flavor and perfume. Can be removed with a citrus zester or grater. When removing the outer rind (zest) do not remove the white pith, which is very bitter and inedible.

Linzer Cookies: Preheat the oven to 350 degrees F (177 degrees C) and place rack in the center of the oven. Toast the almonds (or pecans) on a baking sheet for about 8-10 minutes (or until lightly browned and fragrant). If using hazelnuts, toast them for 15 minutes or until fragrant and the skins begin to flake. Remove from oven and place the hot nuts in a dish towel. Roll up the towel and let the nuts sit (steam) for five minutes then rub the nuts in the towel briskly to remove the skins. Once the nuts have cooled, place in a food processor and process with 1/4 cup (50 grams) of the sugar from the recipe until finely ground. Set aside.

In a separate bowl, whisk or sift together the flour, cinnamon and salt. Set aside.

In the bowl of your electric mixer (or with a hand mixer), cream the butter and remaining sugar until light and fluffy (approximately 3 minutes). Beat in the vanilla extract, egg yolks, and lemon zest. Beat in the ground nuts. Add the flour mixture beating just until incorporated. Divide the dough in half and shape into two rectangles about 1/2 inch (1.5 cm) thick. Wrap the two rectangles of dough in plastic wrap and refrigerate until firm (at least one hour and up to several days).

Preheat oven to 350 degrees F (177 degrees C) and place rack in center of oven. Line two baking sheets with parchment paper and set aside.

Remove one rectangle of dough from the refrigerator. On a lightly floured surface roll out the dough until it is about 1/4 inch (1 cm) thick. Using a 2 to 3 inch (5 to 7.5 cm) cookie cutter (round, square, heart, etc.) cut out the dough. Place the cookies about 1 inch (2.54 cm) apart on the prepared baking sheet. Use a smaller cookie cutter (3/4 - 1 inch (2.54 cm)) to cut out the centers of half of the cookies on the baking sheet. (You will be sandwiching two cookies together and there will be a small 'window or cut out' in the top cookie so you can see the jam underneath.)

Reroll any scraps and cut out the cookies. Remove the other half of the dough from the refrigerator and roll and cut out the rest of the cookies. Bake the cookies for 12-14 minutes or until they are very lightly browned. Remove from oven and place on a wire rack to cool.

While the cookies are cooling place the raspberry jam in a small saucepan and heat gently until it has thickened slightly. Strain if there are any lumps in the jam. Let cool.
White Sauce Turkey Enchiladas
4 cups shredded cooked turkey
1 Large can Cream of Chicken soup
1 white onion, chopped
3 small cans chopped Ortega Chili or 3 jalapeno pepper slices, chopped
16 oz. sour cream
1 can black olives chopped. (save a small amount for topping)
Salt and Pepper to taste
1 pkg. flour tortillas
4 cups shredded Monterrey Jack cheese(set aside one cup for topping)
1/2 cup fresh chopped Cilantro (set aside 1/2 for topping)
1 large bowl and one small bowl,
9'x13" baking pan
Foil
Bake at 375 for 45 minutes to an hour
In Large bowl combine cream of chicken soup and sour cream,set aside in small
bowl enough of the mixture to cover the enchiladas as a topping.
To the mixture In the large bowl add
onions,chilies,olives,Turkey,Cheese,Salt,Pepper,Cilantro.mix well.
Put 2 large spoon fulls or so of mixture on the tortilla and roll,placing seem
side down in pan continue until the mixture is used.
Over the top of the enchiladas add the set aside mixture and top with
olives,cheese and cilantro.
Cover with foil and bake.
Enjoy!
Green Blessings Arlena
---
Berry Torte
Ingredients
11 ounces cream cheese, softened
3/4 cup white sugar
2 teaspoons vanilla extract
1 pint heavy whipping cream
2 (12 ounce) packages mallono cookies or lady fingers.
1 (16 ounce) package fresh or frozen berries
1 tablespoon cornstarch
1 angel food cake
Directions
1. Strain berries and set aside, reserving juices. In a saucepan bring
cornstarch and berry juice to a gentle boil. Remove from heat and let cool.
2. Whip cream cheese, sugar, and vanilla together.
3. In a separate bowl beat whipping cream until stiff peaks form. Fold whipped
cream into cream cheese mixture.
4. Arrange cookies around sides of the 8 or 9 inch spring form pan, standing
cookies lengthwise around sides of pan.place a layer of Angel food Cake on bottom
of pan and Pour 1/2 of the filling into the pan, then place a layer of angel
food cake on top of filling. Pour remaining filling over Angel Food Cake.
5. Spread berry sauce over top of cake and place the whole berries on top.
Refrigerate and remove from pan once thoroughly chilled.
---
Peppermint Bon Bon Cookies
Ingredients
Directions
Combine first 3 ingredients in a large saucepan; cook over low heat until chocolate melts and mixture is smooth, stirring occasionally. Remove from heat, and stir in 1/2 cup crushed peppermint and 6 tablespoons sugar. Let cool 30 minutes.

Add eggs to melted chocolate, 1 at a time, stirring well. Stir in extracts
Combine flour, baking powder, and salt; add to chocolate mixture, stirring until combined. Stir in chocolate morsels. Cover and chill dough 2 hours or until firm enough to shape
Shape dough into 1 1/2" balls; place on parchment paper-lined baking sheets. Bake at 325° for 12 to 13 minutes or until cookies are puffed and cracked on top. Sprinkle coarsely crushed peppermints onto cookies; press candy lightly into cookies. Let cookies cool 5 minutes on baking sheets. Transfer to wire rack to cool completely.
Whisk together powdered sugar and milk; drizzle over cooled cookies, if desired. Drizzle with melted chocolate, if desired. Sprinkle cookies again with chopped peppermint, if desired. Let cookies stand until glaze and chocolate are firm.
---
Maple Thyme Dressing
1/3 cup maple syrup
1/3 cup cider vinegar
3 tablespoons finely minced fresh thyme (see note)
Honey-Lime Dressing:
About 1/3 cup fresh-squeezed lime juice (2 to 3 limes)
5 tsp honey, or to taste
1 Tbsp white wine or rice vinegar
1/8 tsp salt (about)
Grilled Salmon with Nasturtium Vinaigrette Recipe
Ingredients
1/4 cup red wine vinegar
1/4 cup shallots, finely diced
3/4 cup extra virgin olive oil.
Salt to taste and freshly ground pepper
3/4 cup snipped nasturtium flowers.
1/4 cup snipped fresh chives
8 (3 ounces each) pieces of salmon fillet
Chives for garnish
Instructions
Preheat broiler or grill. Combine vinegar, shallots, and all but 2 tablespoons olive oil. Whisk until combined. Salt and pepper to taste. Add nasturtiums and chives. Rub salmon with remaining olive oil. Season with salt and pepper. Place on grill for 3 minutes. Turn, and cook until done (about 3 more minutes, depending on thickness). Place two pieces of salmon on each serving plate. Whisk vinaigrette and spoon over salmon. Garnish with fresh chives.
Yield: 4 servings
Orange-Rosemary Vinaigrette
Ingredients
1/4 cup mild olive oil
2 tablespoons chicken broth, preferably homemade
2 tablespoons red wine vinegar
2 teaspoons Dijon mustard
1/4 cup thawed frozen orange juice concentrate
2 cloves garlic, minced
1/4 teaspoon salt
1/2 teaspoon paprika
1/8 teaspoon cayenne pepper
1/8 teaspoon black pepper
1 tablespoon minced fresh rosemary leaves
Instructions
Whisk all the ingredients together in a small bowl, and set aside. Cover and refrigerate until needed. Can be doubled.
Yield: about 1 cup
Sun-Dried Tomato Vinaigrette
Ingredients
2 sun-dried tomato halves
1-1/2 tbsp Balsamic vinegar
1-1/2 tbsp red wine vinegar
1/2 garlic clove, minced and mashed to a paste with 1/2 teaspoon salt
1/3 cup olive oil
1 tbsp fresh basil leaves, minced
Instructions
In a saucepan simmer the sun-dried tomatoes in 2 inches of water for 3 minutes, or until they are tender, drain them, and mince them. In a bowl wisk together the tomatoes, the vinegars, and the garlic paste. Add the oil in a stream, whisking, and whisk the vinaigrette until it is emulsified. Stir in the basil.
Yield: about 2/3 cup
Yogurt Tarragon Salad Dressing
Ingredients
8 ounces plain, lowfat yogurt
2 tablespoons tarragon white wine vinegar
1 tablespoon minced onions (optional)
1/4 teaspoon dried leaf tarragon
1/8 teaspoon pepper
Dash of cayenne pepper
Instructions
In a small mixing bowl, place the yogurt, vinegar, onions (if using), tarragon, pepper, and cayenne pepper; stir to combine. Cover and refrigerate up to 1 week.
Yield: About 1 cup
A flavored vinegar with garlic and basil.
INGREDIENTS:
4 cups red wine vinegar, at least 5% acidity

1 cup fresh basil

8 cloves garlic, crushed
PREPARATION:
Rinse and dry basil thoroughly. Divide between two sterile pint jars; add two crushed garlic cloves to each jar. Pour in vinegar and cap with sterile lids.
Let jars stand for about a month in the sun, turning occasionally
Add fresh wine vinegar if necessary to keep herbs covered.
May be kept for about 3 to 4 months at room temperature.
Linguine With Fresh Herbs
Ingredients
3 tablespoons plus 1 teaspoon extra virgin olive oil
1 cup fresh bread crumbs made from cubed Italian or French bread, including crust, coarsely ground in food processor or blender
1/2 cup finely chopped red onion
2 teaspoons minced garlic
3/4 cup chicken broth, preferably homemade, or defatted low-sodium canned
1/2 teaspoon coarse salt
1/2 teaspoon crushed red pepper flakes
1/2 cup loosely packed chopped fresh basil leaves
1/3 cup loosely packed chopped fresh mint leaves
1/2 cup loosely packed chopped Italian parsley leaves
3 tablespoons minced fresh thyme
1 pound linguine

Instructions
In a 10-inch nonstick skillet, heat 1 teaspoon oil over medium heat. Add bread crumbs and toast until golden, stirring frequently to prevent scorching. Remove from heat and transfer to a small bowl. In same skillet, heat remaining 3 tablespoons oil over low heat. Add onion and sauté, stirring frequently, until soft but not brown, about 2 minutes. Add garlic and cook until soft, about 30 seconds. Stir in chicken broth and simmer until heated. Season with salt and red pepper flakes. Transfer mixture to pasta bowl, add fresh herbs, and stir to combine. Cook pasta in 6 quarts boiling water with 2 teaspoons coarse salt until al dente. Drain pasta, transfer to pasta bowl, and toss with herb mixture. Sprinkle toasted bread crumbs on top and serve.
Yield: 6 servings
Herb Flower Pesto Sauce Recipe
1/2 cup chopped pecans or walnuts
2 cups basil, oregano, or sage flowers (or any combination)
1/2 cup walnut or sunflower oil
1 clove garlic, peeled and coarsely chopped
2 green onions, including green parts, coarsely chopped
1/2 teaspoon salt
1/2 teaspoon freshly ground black pepper
PREPARATION:

Toast pecans or walnuts in a hot skillet until fragrant. Let cool.

Place nuts, herb flowers, oil, garlic, green onions, salt, and pepper into a food processor fitted with the metal blade
Toast pecans or walnuts in a hot skillet until fragrant. Let cool.

Place nuts, herb flowers, oil, garlic, green onions, salt, and pepper into a food processor fitted with the metal blade.
Pulse into a coarse puree

Toss with hot pasta or as a condiment to roasted pork, chicken, or seafood.

Yield: about 1-1/2 cups
Basil Mayonnaise
Ingredients
1 large egg
1 teaspoon freshly squeezed lemon juice
1/3 cup chopped fresh basil
2 tablespoons chopped green onions
1 teaspoon salt
8 turns fresh ground black pepper
1 cup olive oil

Instructions
Combine the egg, lemon juice, basil, green onions, salt, and pepper in a food processor or blender and puree for 15 seconds. While the processor is running, slowly stream in the oil.
When all of the oil has been added, turn off the machine and scrape down the sides and cover. Process again until the mixture becomes a thick mayonnaise. Remove the mayonnaise to an airtight container and refrigerate for at least 30 minutes. Use within 24 hours.
Yield: 1 cup
Fresh For Spring Recipes
Spring Rhubarb Crisp
INGREDIENTS
3 cups chopped rhubarb
1 cup white sugar
3/4 cup rolled oats
1 teaspoon all-purpose flour
1 teaspoon ground cinnamon
3/4 cup brown sugar
3/4 cup all-purpose flour
1/2 teaspoon baking soda
1/2 teaspoon salt
1/3 cup margarine, softened
DIRECTIONS
Preheat oven to 350 degrees F (175 degrees C) and lightly grease a 2 quart baking dish.

In a large bowl, combine rhubarb, sugar, oats, 1 teaspoon flour and brown sugar. Stir until well combined and pour into prepared baking dish.

In small bowl, stir together 3/4 cup flour, baking soda and salt. Blend in margarine until all flour is incorporated. Sprinkle over rhubarb mixture.

Bake 30 minutes, or until rhubarb is tender.
---
Valentines Fun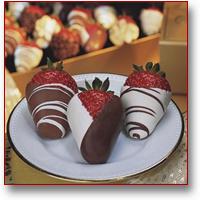 Chocolate Dipped Strawberries
24-30 perfectly ripened strawberries, green caps intact
6 oz (.375 lb) sweet, semi-sweet, bitter sweet, milk and/or white chocolate. Preferably chocolate chips, chocolate calets or chocolate bars coarsely chopped.
Believe it or not, chocolate chips are really the best way to melt chocolate. They are available at grocery stores in dark-, white- or milk-chocolate varieties and taste wonderful. Melting them is the key, so utilize the easy method provided below.
Microwave Melting Chocolate
In a microwave-safe bowl, melt chips using either the defrost setting or 10-percent power in the microwave . Use two to three minute increments until smooth.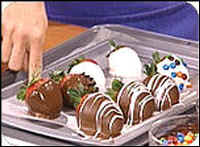 Dipping Strawberries
Yes, there is a technique involved to perfect chocolate-covered strawberries. When you dip the strawberry into the melted chocolate, give it a little shake as you withdraw it. This will fill in all the cracks and leave a nice, even line of chocolate at the base. When the strawberry is completely withdrawn from the chocolate, swirl it in a quick, clockwise motion to "spin" the dripping chocolate off.
Invert the hand, pointing the strawberry at the ceiling, to seal it and allow you to sprinkle other candies or toppings around the surface.
Cool covered strawberries on a sheet pan with wax paper. Keep them at a cool room temperature and try to dip them the same day you serve them.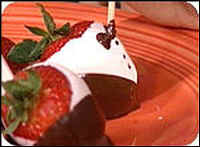 Tuxedo Strawberries
Dip strawberries in both white and dark chocolate to create a tuxedo effect. Dip in white first, let the chocolate dry, then dip twice in dark chocolate, giving them that little shake to keep a straight line. Buttons and a bow tie can easily be added with the tip of a wooden skewer or piped on using a paper cone .
Apple-Raspberry Valentine Crisp
The heart-shaped lattice of puff pastry rests on top of a quick-to-make sauté of raspberry-flavored apple slices, mounted on a pool of vanilla yogurt sauce. Use Washington State Fuji apples, rich in flavor and tangy sweetness, which stay firm even when sliced and cooked. For convenience, weave the hearts in advance and refrigerate, unbaked, overnight.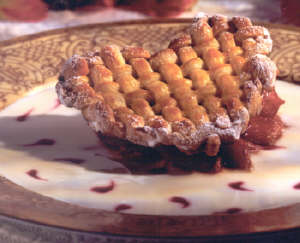 Yield: 2 servings
1 sheet (9 1/2 x 10-inch) puff pastry (sold in grocery freezer sections or make your own puff pastry)
1 egg beaten with 1 tablespoon milk
1 tablespoon butter
2 Fuji apples, peeled, cored and cut into 1/4-in thick slices
2 teaspoons sugar
1/2 teaspoon ground cinnamon
3 tablespoons seedless raspberry jam
1 eight ounce container lowfat vanilla yogurt
1/4 cup water
Confectioner's sugar
On floured surface, roll puff pastry into 14 x 10-inch rectangle. Cut pastry into two 7 x 10-inch pieces. Using a ruler to guide pastry wheel, cut each half into 22 seven-inch long strips about 1/4-inch wide.
To make lattice heart, lay 11 pastry strips, 1/8-inch apart and parallel, across an ungreased baking sheet. One by one, weave 11 more strips through parallel strips to create lattice square. Cut out center of lattice with a 4 or 5-inch heart-shaped cookie cutter or stencil and discard trimmings. Refrigerate heart 10 minutes.
Heat oven to 400 deg. F. Brush hearts with egg mixture and bake 15 minutes or until golden brown. In skillet, melt butter and add apple slices, sugar and cinnamon. Cover and cook, stirring occasionally, for 20 minutes or until tender. Stir in one tablespoon of jam.
To serve, blend yogurt and water. Divide mixture between two large serving plates. Mound apple slices in center. Dip edges of each heart into confectioner's sugar and place atop apples.
To make heart-shaped designs in the sauce, heat remaining jam in microwave for thirty seconds. Drop dots of jam onto sauce. Drag a toothpick tip through center of each dot to make heart.
Source: Washington Apple Commission
Chocolate-Strawberry Cones
Chocolate-Strawberry Cones
Make 12 cones


3 tablespoons all-purpose flour
1 tablespoon unsweetened cocoa powder
1/4 cup sugar
1 egg white
2 tablespoons unsalted butter, melted
2 tablespoons chopped pistachios

Filling:
1 cup whipping cream
2 tablespoons Framboise (Raspberry liquor)
4 ounces strawberries, hulled
Preheat oven to 400 F (205° C). Grease and flour 3 baking sheets.
Sift flour and cocoa into a medium-sized bowl; stir in sugar. Make a well in center. Add egg white and butter and beat until smooth. Place spoonfuls of mixture onto prepared baking sheets, spacing well apart, and spread out thinly to 4-inch circles. Sprinkle with nuts.
Bake in preheated oven 4 to 6 minutes. Remove with palette knife and curl each around a cornet mold, holding in position until set. Remove from molds.
To prepare filling, in a small bowl, whip whipping cream and Framboise until thick. Spoon 1/4 of whipped cream into a pastry bag fitted with a large fluted nozzle.
Slice strawberries and reserve 12 slices. Fold remaining strawberry slices into remaining whipped cream and spoon into chocolate cones. Pipe a rosette of whipped cream on each and decorate with a strawberry slice.

Note: The mixture makes 15 cones which allows for 3 breakage's. Only bake 3 circles at a time or they will begin to set before you have time to roll them up.
Spanish Christmas Salad
1 c. mayonnaise
3 tbsp. sugar
2 tbsp. milk
I Head large leaf lettice
1 sm. head Iceberg lettuce chunked.
1 med-sized pineapple, sliced or 1 (20 oz.) can sliced pineapple, drained
1 can manderin oranges drained
3 sm. bananas, peeled & sliced
1sm. Red Delicious , 1 yellow and 1 green apple, cored & cut into thin wedges
1 (16 oz.) can sliced pickled beets, drained
1 Jicama peeled and sliced
1/2 c. Pine Nuts
1/2 c. Craisins
1 Pomagranet opened and seeds removed.
Prepare dressing: . In small bowl, mix juice from pineapple and ornges, mayonnaise, sugar and milk. Place bowl with dressing on large platter. Line platter with large leaf lettice and top with chunked iceberg lettuce. On lettuce, arrange pineapple, oranges, bananas, apples and beet craisins. Sprinkle with pinenuts and pomegranit seeds . Serve salad with dressing.
ENJOY! and Happy New Year.
Garlic Soup
1 lb Garlic (about 8 heads)
3 tb Olive oil
2 md Onions, peeled and diced
3 c Chicken broth
1/4 c Lemon juice
4 ea Bay leaves
1/2 ts Dried thyme
4 c Milk

Separate the heads of garlic into cloves, but don't bother to peel
them. Heat olive oil in a 2 quart pot over medium heat. Add garlic
and cook, stirring occasionally for 15 to 20 minutes or until the
skins turn golden. Add the onion and cook until soft, another 5
minutes. Add the broth, then the lemon juice, bay leaves and thyme.
Increase heat to high and bring to a boil. Lower heat to medium and
simmer for 30 minutes. Remove from heat, place contents of the pot in
a food processor or blender and puree. Strain garlic puree through
strainer into a medium pot over medium heat. Add milk cover, and
bring to a boil. Immediatly reduce heat to low and simmer for 10
minutes. Serve hot.


Aunt Mays Apple Butter
INGREDIENTS:
9 to 10 apples
1 cup apple cider
2 tsp. apple pie spice(or 1/2 tsp. each nutmeg and allspice and 1 tsp. cinnamon)
1. Peel and core the apples, then cut them into 1 inch chunks. (Don't worry about making them perfectly sized). Place the apples in a large, nonreactive saucepan and pour the cider over them. Cover the pot and cook for about 30 minutes over low heat or until the apples are soft.

2. Cool the mixture until it is only warm to the touch. Divide it into two batches and puree each in the bowl of a food processor or blender. (At this point, you will have an unsweetened applesauce, which makes excellent baby food).

3. Pour all of the pureed fruit into a 13 x 9 x 2 inch baking dish, spread evenly, sprinkle with the apple pie spice, and stir well. Bake in a preheated 300 degree oven for 2 to 3 hours or until your apple butter is deep brown and thick. Stir the puree every 20 minutes. Cool the apple butter and then scoop it into a clean jar with a sealable lid. It will keep for up to 2 months in your refrigerator. Spread it on toast, crackers, or sandwiches. Makes 1-1/2 cups.

Pepper Jelly
14 hot peppers (jalapeno)
4 sweet peppers (red)
3 cups white vinegar
10 cups sugar
2 pouches pectin
2 tsp red (or green) food coloring
Cut peppers. Discard seeds and stem. Grind peppers in blender with vinegar. Move this mixture to a large pan and place on your stove burner. Add sugar, bring to boil, and boil for 5 minutes. Remove from heat and skim. Add 2 pouches pectin and food coloring. Boil hard for one minute. Seal hot.
GINGER SWEET-POTATO PIE WITH CINNAMON MERINGUE
For filling
2 pounds sweet potatoes (about 4 medium)
3/4 cup milk
1/2 cup heavy cream
1/3 cup sugar
2 large eggs
1/4 teaspoon salt
1/4 teaspoon freshly grated nutmeg a pinch ground cloves
1/4 cup crystallized ginger* (about 2 ounces)
pie weights or raw rice for weighting shell
For meringue
1 cup sugar
2 teaspoons cinnamon
5 large egg whites
*available at some supermarkets and specialty foods shops


Make filling:
Preheat oven to 400°F. and line a baking sheet with foil.
Prick sweet potatoes in several places with a fork and on baking sheet bake in middle of oven until very soft, 1 to 1 1/4 hours. When potatoes are cool enough to handle, halve and scoop out enough flesh to measure 2 cups, reserving remainder for another use. In a food processor purée flesh with all remaining filling ingredients except ginger until smooth. Finely chop ginger and stir into filling. Filling may be made 1 day ahead and chilled, covered. Bring filling to room temperature before proceeding.
On a lightly floured surface with a floured rolling pin roll out dough into a 14-inch round (about 1/8 inch thick) and fit into a 9-inch (1-quart) glass pie plate. Trim dough, leaving a 1/2-inch overhang, and crimp edge decoratively. With a fork prick bottom and side of shell all over. Chill shell 30 minutes, or until firm.
Preheat oven to 375°F.
Line shell with foil and fill with pie weights or raw rice. Bake shell in middle of oven 25 minutes and carefully remove foil and weights or rice. Bake shell until just pale golden, about 10 minutes more. Pour filling into shell and bake pie in middle of oven 40 minutes.
Make meringue after pie has baked 30 minutes:
In a large metal bowl stir together sugar and cinnamon until combined well. Set bowl over a saucepan of simmering water and add whites, stirring until sugar is dissolved. Remove bowl from heat and with an electric mixer beat whites until they hold stiff, glossy peaks.
Mound meringue in center of hot filling and spread almost to edge of pie. Bake pie in middle of oven until meringue is golden brown, 12 to 15 minutes more. Serve pie warm or at room temperature.

Serves 6 to 8.
Gourmet
November 1998

1/2 cup Crisco
1 1/2 cups flour
1 cup maple syrup
1/2 tsp. salt
1/2 cup milk
2 tsp. baking powder
1 egg, beaten

Add above ingredients together and mix well.
1 1/2 cups oatmeal
1/2 cup chopped nuts
1/2 cup raisins

Mix into the first ingredients. Drop by tablespoon onto ungreased cookie sheet. bake at 375 degrees for ten minutes. Cool on rack. Makes two dozen.







---

GLAZED CARROTS

8 medium carrots
1/4 cup maple syrup
3 Tbs. butter
1/2 tsp. ginger

Slice carrots. Cook until tender. Melt butter. Add maple syrup and ginger to melted butter. Simmer carrots in maple syrup mixture until glazed.

---

NEW ENGLAND INDIAN PUDDING

5 cups of milk
2/3 cup cornmeal
½ tsp. salt
1 tbs. molasses
1-cup maple syrup
4 tbs. unsalted butter
½ tsp. ground ginger
½ tsp. cinnamon
1 cup raisin or chopped dates (optional)

Butter a 2 or 2 ½ quart casserole and preheat oven to 300 degrees. Heat milk over medium heat in a large, heavy pan. Slowly add cornmeal stirring constantly with a wooden spoon. Cook and stir for about 10 minutes until the mixture thickens. Lower heat, add the rest of the ingredients and continue stirring for about two minutes. Pour into the buttered baking dish and bake for 2 to 2 ½ hours. Best served warm with vanilla ice cream or a dollop of whipped cream.

---




Irish Coffee
1 cup (8-ounces) heavy cream
3 tablespoons granulated sugar
6 cups strong, hot black coffee
3/4 cup Irish whiskey
Using an electric mixer, beat the cream with 1 tablespoon of sugar until soft peaks form. Set aside.
Combine remaining sugar, coffee and whiskey.
Pour into mugs and top with whipped cream. Serve immediately.
Makes 4 to 6 servings.